Created: Tuesday, 23 July 2002
Written by Pervis
Disparate tome found on beach. Official translators puzzled. Writer flees Ho Chi Min city to avert international conflict. Vietnam/China dilemma looms. US expected to act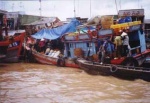 Chinese officials today confirmed that a renegade western journal was found on the beach somewhere 'not far' from Danang. Pages of the document were purportedly blown over the border as a freight container broke loose from an Atlantic bound frigate. A spokesman for Xenox News was interviewed by CNN last night from an undisclosed terrorist location. Footage of the interview is yet to be aired though reports suggest radical statements that may be clearly interpreted as terrorist activity appear uncut in their entirety in the pages.
Tensions have increased as speculation of the nature of the documents and the rumour that copies are spreading throughout the Chinese underground and Internet funded prostitution mafia rings. US officials suggested late yesterday afternoon that full retaliatory forces may be used to 'exterminate the infidels'.
Steve "Invercargal" Reefer was last seen swimming toward a flotilla of boats in Ho Chi Min bay apparently trying desperately to flee into hiding. Eyewitness Nha Mat Tien said "How you know I take it?" Later he admitted that Mr Reefer had jumped off the dock only 'after' militia threw his bottle of bourbon into the drink and confiscated the ancient printing device that appeared to be of Russian origin.
Phelan Wheelin, linking the connections between anthrax and constipation at Monash Medical Centre, was quoted on Wednesday morning as saying "I read all about it in Xenox News; we've been relying on that rag for years; no wonder the Chinese are up in arms! That stuff is just too plain heady. Heaven help them..."
The Xenox News editorial office in Darwin today were not taking calls though a lawyer friend of a known chief Xenox News source was reported as uttering repeatedly in unending stanzas, "How the fuck did we know that the frigging frigate and rigging was frigged and that the jig could possibly be rigged?" before collapsing in the Royal Darwin Hospital. The final statement issued before the QC fell into a coma was "Never get off the fucken boat."