Saturday, 18 May 2002
By Correspondent
Just when I had really started to think that Yoda was real I find out that he is an imposter. Not only that but he has also masqueraded as Cookie Monster, Bert, Grover, Animal, Fozzie Bear, Miss Piggy, and Sam the Eagle.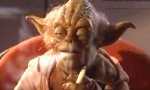 Yoda and Miss Piggy are the same person...
With the opening of Episode II George Lucas suggested recently that "as unbridled romance is now accepted as a part of the Jedi experience, we are considering twisting the plot further in III with a scene where Samuel L. Jackson walks in on Yoda and Kermit the Frog smoking a cigarette after an obvious romantic liaison!" Yeah right, and R2-D2 can fly...