Created: Wednesday, 17 January 2007
Written by Stuffed Reporter
Australian Muslim Mufti Sheik Yadick has outraged his adopted homeland with pronouncements in his latest sermon.
The crazy Sheik who was originally from the Gulf State of Omum was quoted from last Friday prayers where his homily was a blunt assault on values Aussies hold dear.
"Y'KNOW THE TURKS BEAT THE ANZACs"
"GUESS WHAT? AUSTRALIA ISN'T THE GREATEST COUNTRY IN THE WORLD. IN FACT I RECKON NEW ZEALAND IS BETTER."
"I TOLD THE POLICEMAN THE REASON I HAVE THESE CHEMICALS IS THAT I'M ABOUT TO BUILD A FACTORY. IT IS TRUE, I ASSURE YOU."
'THERE IS A NEW CRUSADE. AND IT IS AGAINST RIGHT AND WRONG, GOOD AND EVIL. THE FACT THAT THE FEW ARE BETTER THAN THE MANY. I BELIEVE IT WAS STARTED BY A NICE GERMAN CHAP A HUNDRED OR SO YEARS AGO. I BACK IT TO THE HILT."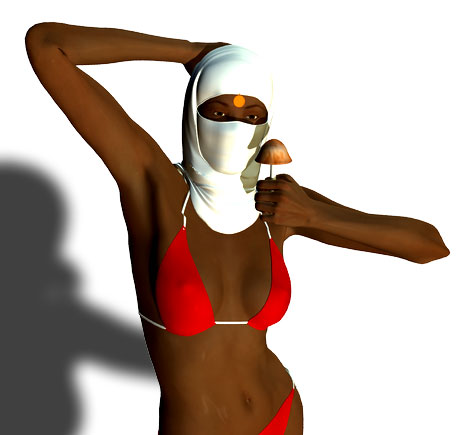 One of the Mufti's fanatical followers.
"IS THERE ANYTHING MORE PATHETIC THAN BEING IN THE
CENTRE
OF POLITICS."
"This is true: those willing to die for their cause will always beat those too scared to die for theirs."
'PM HOWARD SHOULD USE VIAGRA. HE HASN'T RAISED IT FOR YEARS."
"I AM IN FACT THE BIGGEST MUFFTI ROUND HERE. And so is my wife…"
"I'M NOT LEAVING UNTIL BUSH LEAVES BAGHDAD; AND WE ALL KNOW THAT AINT NEVER GUNNA HAPPEN!"
"IT COMES DOWN TO THIS. WHICH RELIGION IS RIGHT. AND IT IS MINE."
"STAND UP FOLLOWERS. I WILL LEAD."
"I'M WILLING TO ADMIT PROBLEMS IN MY RELIGION. FOR INSTANCE THE BAN ON ALCOHOL SEEMS A LITTLE OVER THE TOP. WHAT ABOUT YOUR RELIGION MR CHRISTIAN? WHERE HAS IT GONE WRONG?"
"WHO WILL WIN THIS WAR ON TERROR? MY PEOPLE, DON'T WORRY. THE CURRENT SITUATION IS TOO DIFFICULT FOR YOUR AVERAGE YOB TO UNDERSTAND. I SAY IT'S UP FOR GRABS. A CHANCE FOR THE
REAL
UNDERDOG PERHAPS."
"I'M CALM. LIKE A BOMB."