Tuesday, 03 December 2002
By Max Gross
SUFFER IN YER JOCKS! OR KNICKERS!
Gobsmacked Lorraine Elliott, the very EX-member for Mooroolbark (after 10 years!), is scratching her pointy wittle head, wondering why Victorians decided to wipe her and her disgraceful Tory tyro colleagues from the political landscape.Even the minority Greens polled higher in her electorate!
Ms Elliott poo-pooed the suggestion that the unprecedented Labor tsunami that reduced her Party to an irrelevant gaggle of geese was a vote against economic rationalism. Oh dear, so much for getting smacked upside the head by reality! Wakey, wakey, Lorraine: you're out of here!

Bothered and bewildered, she even claimed Liberal governments had brought about historic social changes, and of course they have: massive school closures, hospital sell-offs, staff sackings, institutionalised corruption and a callous blitzkrieg o­n critical community services and values built up over 150 years.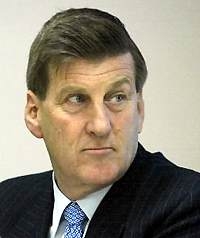 Miffed Ms Elliott also claimed the economic rationalist tag was 'unfair', especially when applied to her former Furhrer, discredited Great Dictator, Adolf Kennett, and his putsch for a Thousand Year Reich. Not so much Beyond Blue as beyond bloody belief!

Which pretty much confirms that the baffled Ms Elliott and her nasty Party of manifest destiny delusions are destined for a very, very long wander in the wilderness. Let's face it, folks: they've earned it!

PS And by the way, the story about Robert Dean, the dickhead Lib candidate who 'forgot' to enrol, is not so much that he neglected this fundamental responsibility, but that he NEVER lived in the electorate in the first place: he simply rented a house to make it SEEM he was a resident, while living elsewhere.

This was Max Gross again, bemused by the born-to-rule mentality of the Tories, and enjoying the view. Suffer in yer jocks!