Sunday, 29 July 2012
By Sports Correspondent
After an amazing opening ceremony that saw Queen Liz bent over her seat and rogered by James Bond for the World's gratification, competition finally has got under way in the London Olympics. And XenoxNews.com will be on the spot to report on everything that is happening at this 'all you can eat' feast of sport…
Queen Liz always seems to get horny for the Olympics. Here she is flashing the gash on the way to opening the Olympics in Melbourne 1956.
DAY 1
All Australia jumped for joy when the Aussie girls 4x100m swimming relay won gold, gold, gold! in the pool. However the win was sullied by claims from the Dutch team that the fatness of the Aussie girls gave them an unfair advantage.
Said Ditte Van Dykegirl: "Every time one of those fatty boombas jumped into the pool it created an almighty splash and the waves stopped our girls getting any pace"
The Aussie girls responded with that time honored Aussie epithet: "Youre just jealous!"
American superstar and bong huffer Michael Phelps also failed in his first outing, probably due to the poor quality green in London. And amazingly a Chinese male swimmer won a gold medal. What is this world coming to?
The crowd goes wild at the Horse Fornication trials on the first day of Equestrian events.
In other sports the cream of Western Aristocracy is gathering for the Equestrian competition. First up is the Horse Fornication event with the Romney family of the USA certain to put up a big show.
Aussie hopeful Debbie Pyne-Upperclasstwit said she was going to be pumping her best: "I'll be doing it for our boy Tony and not that dreadful Julia woman."
At finally at the track qualifying also took place for Feaces Flinging and Bending over for the Boss; events which seasoned observers say Australia should continue its fine tradition in at this Olympics.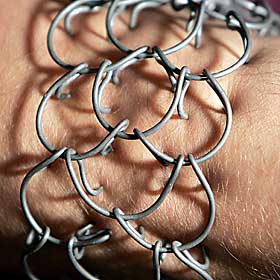 Compulsory wear for the "Bending over for the Boss" event.
So stay tuned to XenoxNews.com for all the latest Olympic news!