Created: Thursday, 25 January 2007
Written by Stiffed Reporter
WITH A TRADITIONAL FLAG BURNING CEREMONY OF COURSE!
Australia Day. Australia's holiest of days. All over this wide brown land people will gather and celebrate what makes this nation great. And what better way to celebrate it than with a Flag Burning Ceremony!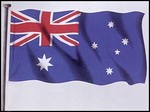 The Aussie Flag: Good for wrapping yourself in and burning!
Here at the 'News we have been holding Australian Flag Burning Ceremonies on January 26 for years. It is a sacred event. The BBQ, the slab of Vic, the bong, the Chinese hooker, and the burning Australian flag; they have long been our way of expressing our love for this great nation.
And it will be the same this year no matter what the "elites" say.
We will run this godforsaken rag up the flagpole on fire!
It is our god-given right in this land of dole bludgers and pisspots!
It is a stirring reminder of why our nation sits atop the pile. It tells the world of our freedom, our greatness, and our larrikin streak.
So grab your aussie rag, douse it in petrol, and let that motherfucker burn!