Created: Monday, 15 December 2003
Written by Pervis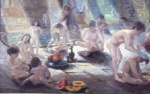 A new Labour opposition initiative intends to make Nastoroli's work combining epidural sedation and bath house regimes available to the masses. Mark Latham believes Medicare subsidies for this new treatment will be a winner among the electorate. Xenox News thinks anything to do with sedation in water might just be a winning ticket. 'Nastoroli's cure', as it is more commonly known, includes invectorate stimulation to the central nervous system while subject leisures within a hot tub.
The treatment is known to cure a multifarious range of conditions including 'paniers syndrome', 'articulated non-fibrosis epidemiology', and 'pent-up anxiety'.
As the dancing girls immerse themselves in the tub along side the patient, an epidural cocktail of guarana, ginseng extract, pure alcohol (32% per volume), and codeine is injected into the spine.
Trial runs have shown that the test subjects, (chosen from a group with histories of neurotic disorder) have displayed immediate signs of increased blood reticulation (particularly around the genital area), positive mood swings, and almost instant alleviation of depressive disorder conditions.
Professor Anuclear of Monash Medical Centre believes that the therapy will be of benefit to more than just the psychopathically disturbed.
"Its becoming clearer and clearer that even the well adjusted in society will benefit from Nastroli's work"
Mark Latham has apparently been an adherent to Nastroli's cure ever since his first immersion which he reluctantly agreed to participate in 1997.
This new Labour government initiative may just be the kicker that will see the end of the flaccid reforms that we have been subject to under John Howard.
Ivan More, from St Albans, this week suggested that he would be right in to it. "Where do I sign up for a trial"
The Liberal government enquiry and press lines refused to comment on this new labour tactic though an off the record comment made by a member of the legislative assembly suggested that subsidies on 'bath house cures' and similar initiatives were apparently on the agenda as parties discovered new ways of enticing the electorate.
Pass me the soap.