Monday, 21 November 2005
By Harry Bismark Jnr
Hot new German leader Frau Merkel has many German patriots excited with her bold vision for Germany.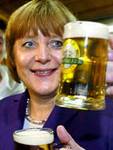 It is hoped that chief among her goals will be the full re-unification of the German people with their Fatherland. Sources close to the new Chancellor say that she hears the German voices crying out from Breslau, Konigsberg, the Sudentland, and other parts of the German speaking world which were snatched away by Stalin at the end of World War 2.
"Frau Merkel knows that Germans have been punished long enough for their sins," one Merkel supporter told me,
"She knows that Germany now requires new space to live in, to grow in, and that the obvious places to do this are in the lands stolen from Germany."
Walk the streets of places like Danzig and you will hear many expressing the same hope.
Harry Bismark Jnr