Tuesday, 31 December 2002
By Max Gross
THE HEADLINES SCREAM: DEADLY TOXIN FOUND! MAX GROSS SCREAMS: BULLSHIIIIIIT!
Oh really? What, you mean the "small amount that tested positive for ricin" that bobbies found in a London flat yesterday?
OH MY GOOOOOOD! RICIN, THAT LETHAL POISON DERIVED FROM CASTOR BEANS!

Apparently its similar stuff to that used to assasinate a Bulgarian dissident back in the real glory days of terrorism, the 1970's, when Australians apparently had enough "common sense" not to require being bombarded by government propaganda regarding "terrorism" and "supicious behaviour".

But hang on, ricin is no WEAPON OF MASS DESTRUCTION. This is strictly the stuff of hit-men, a-la-James Bond (and he ain't no terrorist, is he?!) In fact, ricin has a long history of use in international espionage.

Despite the by-now familiar hysterical media blather about terrorist "potential", the only way to use this stuff as a WOMD would be to produce thousands of litres of it in aerosol form.

According to Professor Michael Allswede of the University of Pittsburge School of Medicine, ricin is only effective as a tool for targeted killing, not mass murder.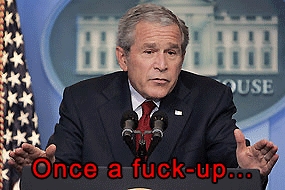 Readers of Xenox News will not be surprised to hear that this latest nasty scare can be placed squarely - yet again! - in the laps of the Masters of the Universe in the United Empire of America.

Yep, boys and girls, ricin was first developed during WWII by the USA and its allies.

To quote Magnus Ranstorp, a terrorism expert at Scotland's St Andrews University: "This is all about the psychology of fear, planting terror in people's minds."

Et tu Johnny, you evil four-eyed dwarf!

This was Max Gross, swaying in a hammock, chucking empties at the telly, and wondering how much the Prime Sinister's mendacious hacks paid a certain dim-witted morning "news" program host for his role in parroting that federal government bullshit.