Friday, 02 June 2006
By Max Gross
Xenox News' raving reporter Max Gross upchucks! The Lying Rodent has finally confirmed our worst fears. He has a "master plan"

In a surprise announcement that the Federal Government will not sell its share in the nation's critical Snowy Hydro scheme after all, Monstralia's PM John W Virus told reporters "It has never been part of my master plan to sell the Snowy."
Apart from his bewildering claim that he will not sell the government's 13 per cent share in the scheme because of community concern o­n the controversial issue, the Rodent's announcement begs the further question:
What IS the sinister prime minister's "master plan"?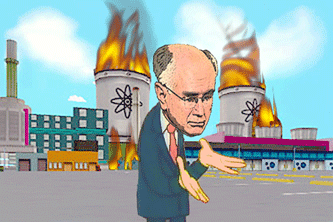 We already know of some of its components.
The dismantling of government provision of essential services like public health, education and transport.
The gagging of scientific research that debunks (neglected) government policy areas like climate change and alternate energy sources.
The o­ngoing scape-goating, ostracising and penalising of Australians in need: kooris, struggling single parents, the working poor, the unemployed.
The dismantling of hard won workers' rights, pay and conditions.
The neglect, abuse and imprisonment of traumatised refugees and asylum seekers.
The continuing promulgation of U.S. Presidunce George W. Bullshit's phoney "war o­n terror".
The continuing collaboration with war criminals in the White House and the illegal U.S. invasion and occupation of Iraq.
And this is just some of what we know. I'm sure the canny readership of Xenox News can add more detail to this alarming shortlist.
These are the dark days, these are the vile days, these are the days of pestilence, frustration and outrage. These are the days of backyard bonfires, dancing nude and vodka spritzers!
And we all know damn well that the Lying Rodent did not reverse his decision to privatise the Snowy Mountain Hydro Scheme just because of "community concern". He did it because the Tory Federal Member for Eden Monaro is anxious he may lose his seat over the issue (What? Didn't the locals get a big enough of a tax cut to stay o­nside?). Fuck 'em!
The good news is the New South Wales and Victorian state governments reckon they too have abandoned their plans to sell their stake in the Snowy.
I guess that's o­ne little bit of the nation's critical infrastructure that will remain out of foreign hands… until the Rodent revises his master plan.
This was Max Gross for xenoxnews.com, listening to community concern, concerned about listening comsats, and listing badly in concert.