Wednesday, 28 March 2001
By Pervis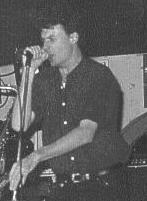 Rock sensation, poet laureate and re-known drunkard Frugal Volkswagon triumphantly returned to his home town earlier this week. One could not help but wonder what experiences befell the man on his recent trip (purportedly to Thailand) as he made his piebald entrance at Melbourne Airport.

Volkswagon emerged from customs chuckling, radiating goodwill and kindliness, his eyes sparkling with joie de vivre, as he surveyed his adoring followers from behind the heaps of flowers they piled around him.
His charismatic sense of humour, combined with his emphatic, yet understated mode of speaking, and his unique accent, gave his every utterance the force of a bon mot. Not since the days when he was regularly touring with revolutionary band "The Onion Cellar" had any of us there at the airport seen or heard anything quite as inspirational. As he slipped quietly into a taxi, one bystander apparently heard him whisper to his lovely partner "I am going to get the band back together". One follower, close to tears, told us "I have only met two really charismatic people in my life and Frugal is both of them."