Created: Friday, 29 December 2006
Written by Submit To The Horn
Spreading fear through the barrel of a gun. Recruiting children as sloganeers.
The vision of ancient Ethiopian nudist Emperor Testiclus comes to fruition as dicks dangle over the Somali capital.
Don't believe me; I'm a liar!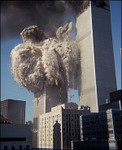 This was the last truth I bought. No one has answered it yet.
Close your eyes – are you human enough for this world?
I am a man beyond all means; a tyrant for the times. Gobble my seed and spread it far and wide; a new man will arise.
A better man.
Enough information for now. Gaze at the midnight sky till the New Year, I will reveal more answers there.