Monday, 02 January 2012
By LordyLordyLordy
The New Years honors list has bought forth a rather large surprise for Australia -  Queen Elizabeth has crowned John Howard King of Australia!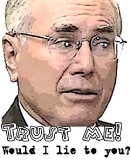 Bow down Aussies to your new leader -King John
Using a long lost clause of Australia's constitution, Queen Elizabeth said she was bowing to overwhelming public opinion in Australia and agreed to appoint the former PM as new leader. Being a staunch Monarchist current PM Julia Gillard had no choice but to bow to her superior and has said she will support the Queen's move.
The new King expressed surprise and excitement about his new role:
"I am honoured, and my wife Hyacinth can't wait to move back into our palace at Kirribilli."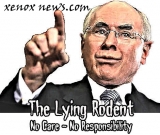 I'm back!
When asked what his first task will be as Australia's new Monarch, he said making Tony Abbott PM would be a priority.