Created: Tuesday, 12 December 2006
Written by EyeOnOz
Sources close to leading figures of the Federal Liberal Party have told Xenoxnews that many in the party are having second thoughts about allowing PM Howard another crack at being elected.
Said one: "Look, we are all getting a bit nervous. None of us want to be in opposition. who knows? We all might have to look for new jobs next year."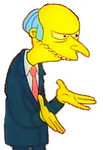 Current Aussie PM John Howard.
However at the moment there is still resistance to act. Another source said:
"Most of us are prepared to wait a bit longer. I mean you look at that pathetic loser Costello and you wonder would he really do any better."