Monday, 19 July 2010
By Digger
Election 2010 has bought the perfect opportunity to lift Australia out of the ALP induced doldrums of the last few years and return her to the stability and economic prosperity of the Howard years.
What has 3 years of Kruddy-Gillard rule bought Aussies?
High debt!
High interest rates!
High influx of illegal immigrants!
High unemployment!
Face it; the last 3 years have been a disaster for our great country. The ALP has demonstrated once again that they cannot be trusted to run our economy. Their hidden socialist and extreme green agenda of over taxing our important industries and driving our energy costs sky high have been revealed.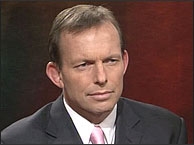 Let's not risk it again. Vote for Tony Abbott and his team; people who know what the mainstream of Australia wants and needs.
Digger,
Cranbourne