Friday, 30 November 2012
By Piss Prophet
My travels all over the world allow me the opportunity to savor the best of what's on offer.
The food.
The scenery.
And the women.
And of course the beers as well. So I'm back to report on another one, this time one brewed and drunk by Hong Kong's finest; the Blue Girl.
For when your wining&dining some jaded Hong Kong princess... Blue Girl Lager!
Having never spent much time in Hong Kong before I was quite eager to try their beer. If it was as good as their scenic harbor and the legs on their ladies I would be very happy man indeed…
So I grabbed a bottle of Blue Girl. It appeared to be what the local hoodlums were drinking; and I thought if it is good enough for any Wing Chung Bung on the tram it'll do me!
On first glance it intrigued me; it had a rather un-Oriental woman on the label, and it proudly proclaimed itself a Pilsner. Was this really a Hong Kong beer? Well, it turns out that like many Asian beers, this one also had a German Heritage.
Well enough of the bottle, what about the brew?
On first pour it came out well. There were bubbles, and it had a nice creamy foam head that looked just like a recently bukkaked Hong Kong starlet. A nice crisp finish; it left the palette wanting more. I found it went well with the Congee, the Yum Cha, and the Frogs Legs. An easy drop to drink, it and the backstreet Viagra had me up all night in Wan Chai and Lan Kwai Fong.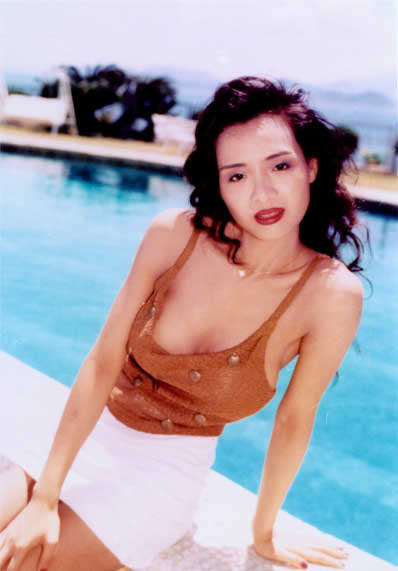 The kind of yummy HK tart I'd like to share a Blue Girl with!
There you have it. For the discerning traveller or the all night boozer in Hong Kong - Blue Girl beer is the one for you!