Created: Thursday, 24 January 2002
Written by Max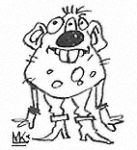 Next month - in early February - Australia's Prime Sinister John "Happy Daze" Howard - aka the Rodent - plans to introduce the following new "counter-terrorist" laws into Federal Parliament:
- ASIO TO HAVE POWERS OF ARREST FOR UP TO 48 HOURS, WITH THE ARRESTEE TO HAVE NO RIGHT TO LEGAL REPRESENTATION
- REMOVAL OF THE RIGHT TO SILENCE UNDER QUESTIONING - THE FABRICATION OF NEW "TERRORIST OFFENCES" AND RELATED LEGISLATION VIOLATING THE RIGHTS TO FREEDOM OF EXPRESSION, ASSEMBLY AND ASSOCIATION
- REMOVAL OF PRIVACY RIGHTS
- INCREASED POWERS FOR THE GOVERNMNET TO SEIZE ANY ORGANISATION'S ASSETS
The proposed laws will be so braodly defined that they threaten to criminalise many unions, environmental and community groups engaged in legitimate protest activity and industrial action.
ASIO will become the Rodent's very own Secret Police!
So all you pissant, narrow-minded, greedy little white-picket-fence suburban shit-for-brains Liberal-voting whimps, when you finally get a bag pulled over your head and thrown in the slammer for looking sideways in an airport lounge or for complaining about some disappearing government service, just remember: you fucking asked for it!