Saturday, 27 July 2002
By Max Gross
Fold? NEVER!
Xenox Anna, as a political party, will immediately experience a gleeful re-birth through its on-line mouthpiece XENOX NEWS.
Just like Cheryl Kernot, we refuse to shut up!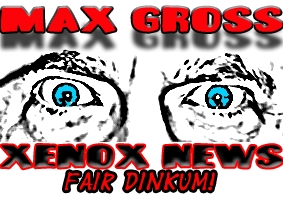 Yes, red-eyed current affairs fans and lost web surfers can expect more of the following:

MORE incisive investigative probing of the anus of life; more deconstruction of the body politic (MMM, BODY...) ; more righteous exposure of the corporate greed that has the long-suffering poor by their wizened old nuts; more invective; more bile: more well-deserved character assassination (how many "n's" is that? how many "asses" is that!) but without the Israeli missiles; more saliva; more beer; more hundreds and thousands sprinkled on buttered white bread; more brickbats; more bouquets; more lions, tigers and bears, oh my; more burning crosses, more burning flags; more cows on rooftops; more space debris; more Dylan Thomas (well, it's about time someone mentioned the mad old fucker); more rant, cant and remorse; more belated post-mortems; more broken mirrors; more condoms than doldrums; more scratching the itch than slapping the bitch; more stakes through the heart of the vampire monarchy; more running with scissors (in the dark, yet!); more lazy Sunday afternoons; more fake fossils; more dead gods and inflated egos; more sex than death; more of what you need even if you don't want it!

VIVA XENOX NEWS! IT'S A DIRTY JOB BUT SOMEONE HAS TO CHEW IT!

Oh, and just one more thing: more pins enthusiastically inserted into my venal and malodorous John Howard voodoo dolly...

This was Max Gross, momentarily rising to the occasion.